New Majors in Departments of Art, Communication and Jewish Studies
October 31, 2020 Communication | Art | Joseph and Rebecca Meyerhoff Program and Center for Jewish Studies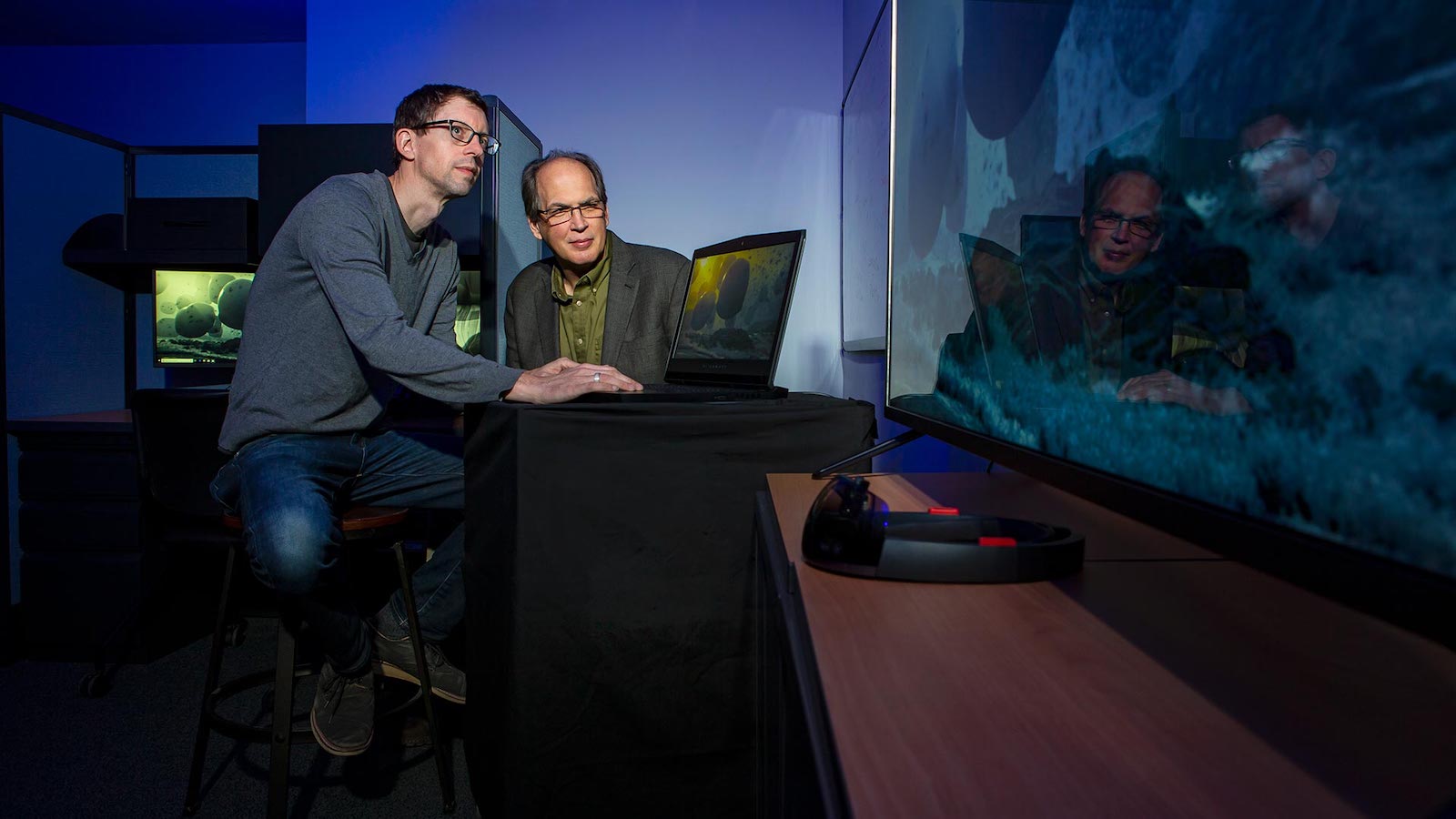 Four communication specializations and majors in immersive media design and ancient religions are among new offerings for ARHU students.
By ARHU Staff
Effective Fall 2020, the College of Arts and Humanities is offering two new undergraduate majors in the Departments of Art and Jewish Studies, as well as a redesigned major in communication.
"The college is committed to ensuring students have opportunities to engage deeply with the traditional humanities as well as with cutting-edge innovations in arts and humanities teaching and research," said ARHU Dean Bonnie Thornton Dill. "We're helping students be competitive and resilient in whatever field they choose to pursue."
Learn more:
Immersive Media Design (IMD) major (B.A./B.S.)
Co-taught by faculty from the Department of Art and the College of Computer, Mathematical, and Natural Sciences (CMNS), this four-year, cross disciplinary undergraduate program prepares students to excel in creativity and innovation using the latest digital tools and technologies, including virtual and augmented reality, digital art, projected imagery, computer graphics, 3D modeling and user interfaces spanning audio, visual and tactile platforms.
"The major will provide invaluable opportunities for students with artistic talent to develop their abilities in new ways and to expand their creativity and career opportunities," said Brandon Morse, professor and chair of the Department of Art and a lead IMD faculty member. "Creative technologists work in fields including the arts, computer science, architecture, healthcare and more."
IMD features two tracks: Emerging Creatives, with coursework focused on digital art, offers a Bachelor of Arts degree; Innovative Coders, for students focused on computer science, offers a Bachelor of Science degree.
Religions and Cultures of the Ancient Middle East (RAME) major (B.A.)
Responding to student interest in religious history and culture, the Joseph and Rebecca Meyerhoff Center for Jewish Studies now offers students a 30-credit major focused on the world out of which biblical Israel and ancient Judaism, Christianity and early Islam emerged. The major creates an opportunity for coursework in the religion, literature, thought and art of the ancient Middle East from the time of the Egyptian kingdoms through the founding of Islam.
Although there are no language requirements for the major, students who wish to incorporate ancient languages into their work are encouraged to pursue a language enhanced track.
"The new major is an excellent foil for the undergraduate minor in religious studies, and it gives students interested in religion the opportunity to pursue a more extensive, and more focused, course of study," said Maxine L. Grossman, associate professor of Jewish studies and religious studies in the Meyerhoff Center. "With nearly a dozen professors across campus teaching courses about ancient religions and cultures, this major gives students an amazing opportunity for deep and diverse academic explorations."
Communication major: new specializations (B.A.)
The Department of Communication now offers students the option to pursue general Communication Studies or select from one of four specializations that align with common career paths for communication majors. The specializations include: Health and Science Communication; Media and Digital Communication; Political Communication and Public Advocacy; and Public Relations.
"The new tracks come as the result of six years of planning to revise our curriculum," said Shawn Parry-Giles, professor and chair of the communication department. They "offer students a diversity of humanistic and social-scientific research perspectives, preparing them for a range of career opportunities or graduate work."
Immersive Media Design major image by John T. Consoli.