From Displacement to Triumph
May 19, 2021 Communication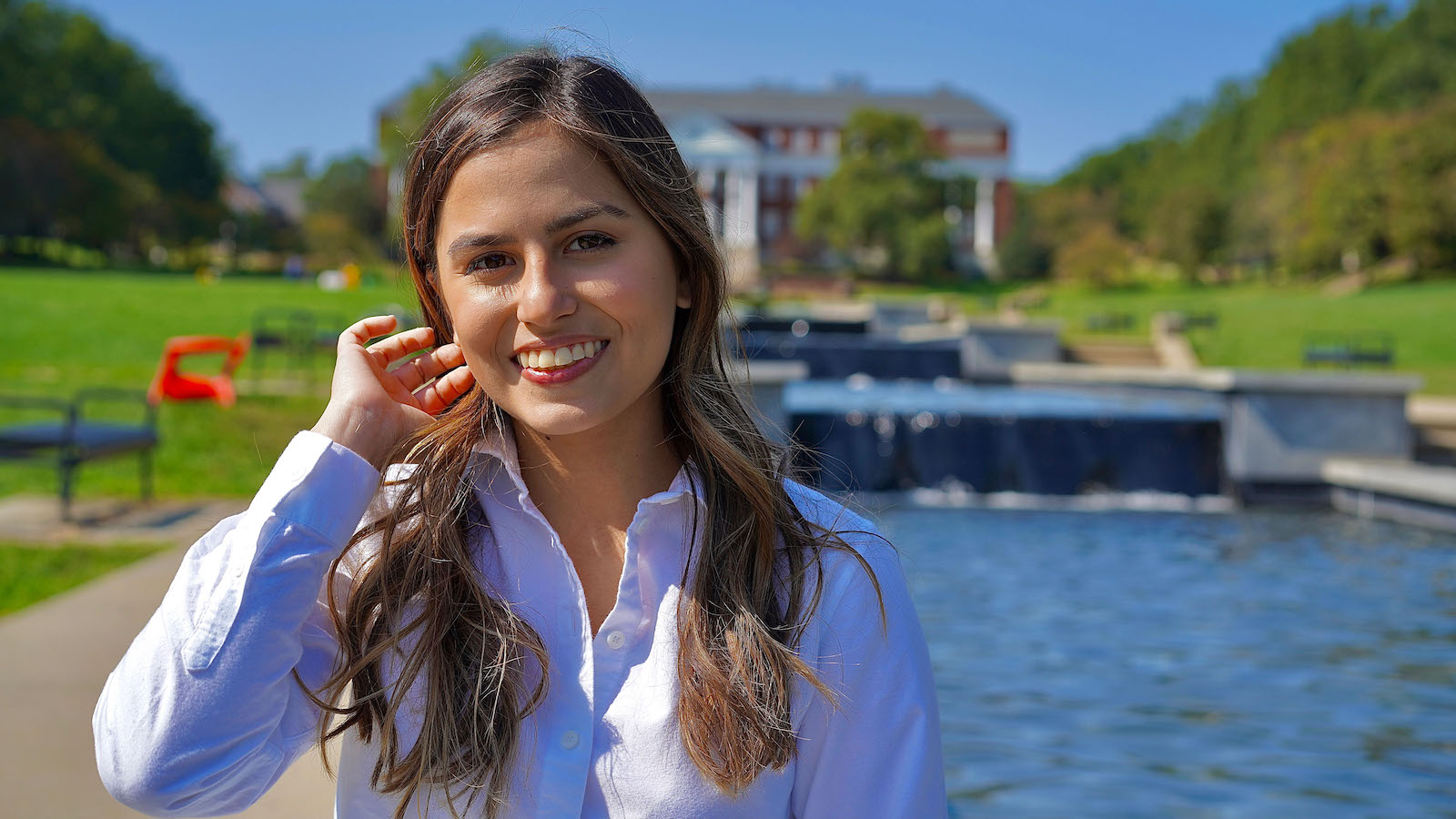 Graduating communication major Anabella Berti '21 will use the range of skills she developed at Maryland to support her family's chocolate business.
By Jessica Weiss '05
Two years after starting college in her native Venezuela, Anabella Berti '21 was forced to begin again. Due to political instability at home, she and her family relocated to Maryland in 2017, seeking to reestablish their chocolate business in the United States.
Berti, who graduates this week with a B.A. in communication, will now use her visual communication and digital media skills at that business, Arcay Chocolates, located at La Cosecha in Washington, D.C. Berti's mom, Anabella Arcay, is an award-winning master chocolatier. 
"It's not easy to leave your country, but Maryland has always felt like a second home," she said. "The Department of Communication has given me the tools to use my voice." 
Berti came to the University of Maryland, College Park, on a full scholarship after beginning her studies in the U.S. at Montgomery College. She quickly found she enjoyed the range of courses in the department and the challenge to articulate complex ideas through visual and written communication. In COMM401: "Interpreting Strategic Discourse," a paper she wrote analyzing how Latin American music can communicate a social conscience on political issues was selected to be presented at the Eastern Communication Association Conference. 
But she was especially drawn to the major's media and digital communication track, which examines how messages are produced and disseminated and gives students the skills to share those messages, whether through traditional or digital media. 
"Everything from Adobe to videography and photography," she said. "I like to do anything creative because I'm a creative spirit."  
While a student, Berti has had ample opportunities to practice those skills, as well as to share her work beyond the classroom. Last year, she filmed and produced a video for the National Institute for Standards and Technology's (NIST) National Cybersecurity Center of Excellence about a cybersecurity collaboration with UMD. 
She also filmed and produced a video promoting the undergraduate communication program, which will be distributed to prospective students, shown in college admissions open houses and used for advertisements online.
"Those opportunities were given to me because my professors were my mentors and recognized the value in my work," she said. 
Berti is the recent recipient of a 2020–21 Achievement Award, given by the Universities at Shady Grove, for her academic excellence and achievement. 
She eventually plans to apply for jobs at the intersection of social justice and marketing, where she can use skills like graphic design, digital analytics and social media marketing to advocate for issues she is passionate about. She also hopes to pursue an M.B.A. in marketing. But, for now, she's eager to improve Arcay Chocolates' web and social media presence and find new ways to share the family's story—which is one of displacement and, ultimately, triumph. 
For Berti, that's a story she hopes to tell for the rest of her life. 
"It's important to me to remind the world that even though we left our country we are fighting everyday to make Venezuela proud and to leave our mark in the world," she said. 
"Everything I do is connected to my culture, to my country, or to the collective Latin American or immigrant experience," she added. "I think it's an important story to tell. It gives me a lot of pride."
Images: Headshot by Joe Leonardi '20, communication. Image of Berti and her cousin and brother at Arcay Chocolates by Yoani Bustamante.