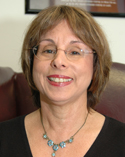 Education
Ph.D., University of Michigan
Research Expertise
Communication Science
Persuasion

Dr. Waks teaches communication theory, persuasion, and group dynamics. She is an expert in leadership training, mediation, and conflict management.
Her main research interest is in the interplay of cognitions, attitudes, and emotions in conflict creation and conflict management, in organizations and in groups.
Dr. Waks has published in the Journal of Communication, the Howard Journal of Communication, and elsewhere.